Intro
You may have never programmed before. Now you will.
What is code?
In general, code is something that stands for something else.
In computers, code is a series of instructions that tell a computer what to do.
What is coding?
coding (aka programming or software development) is a creative, human activity
coding does not mean "cracking the code" or "deciphering" -- it's not a mystery or a secret, at least no more than any other language
the words (and numerals and punctuation) we write are translated into long strings of ones and zeros
What is coding NOT?
coding is not mathematical

some logic (if / then / and / or / etc.)
mostly just counting ("do this 10 times")

coding is not solitary

most coding happens in a team
all professional coding happens with clients / users / designers / managers etc.

coding is not about finding the right answer

there's always more than one way to do it
every solution has tradeoffs
there is always a better way, and never a perfect way
often the hardest part of coding is defining the problem, not solving it
"The only perfect program is an empty file." - Alex
What is coding?
coding is fun!
coding is frustrating!
coding is creative!
coding is communication

between you and a computer
between you and other coders
between you and future you
A Program Is Like A Recipe
a recipe is a collection of ingredients and instructions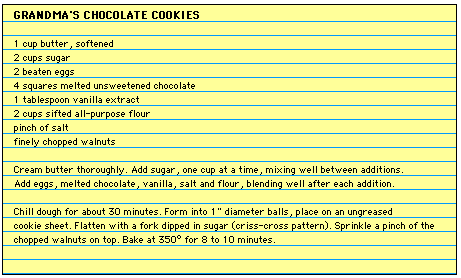 a program is a collection of data and code
When you are writing code, you are not baking cookies, you are writing a recipe for how to make cookies.
(recipe from popcornpottery.com)
Programmatic Thinking
Throughout this course one of the most important skills you will learn is how to think like a programmer.
Computers are weird, and very literal. Here are a few things to keep in mind when working with them:
Computers are very fast, but not very smart. They will only ever do exactly what you tell them to
Computers are really bad at being random. There's always a pattern, though it's not always obvious

When you run into a bug, try and replicate it. If you know the actions that break your code it's easier to guard against them

Getting a different error is good. It means you're making progress so don't get discouraged!
Build things for fun, and to learn
Languages
Every program is written in a LANGUAGE

like Java or Python or C or Fortran
even HTML and CSS and SQL are languages
every computer language has a silly name

Computer languages are very specific compared to natural languages
Different languages are useful in different areas, but there is a lot of overlap
Today we will learn the JavaScript programming language
Errors Are Awesome
Don't be afraid of errors
Your computer is trying to help you fix your program

It's just really bad at communicating
If your code is a two-year-old child, then an error is a temper tantrum.
(It can take effort to figure out the underlying reason why they're upset and fix it.)
It's not all gibberish
Try to read it -- really try! -- and pull out the pearls from the pig slop
See also: What went wrong? from MDN
What will we learn?
In this class, you will learn about:
The command line and why we use it
Strings, Arrays, Variables, Objects, Loops, Files
How to run your code interactively or from a file
How to make a very simple website run on your own computer
Follow along online! Put a browser pointed at this site on one side of your screen, and Terminal on the other.
What if I know some of this already?
Pair up
Help your partner, help your neighbor
Docendo discimus ("By Teaching We Learn")
Promote yourself to TA
The best way to learn is to teach.
- Latin proverb
Technical requirements
See the Installfest project for more instructions.
Software:
a text editor - VS Code from Microsoft https://code.visualstudio.com
JavaScript - a live node.js installation
Git - version 2.x
GitHub
Heroku
Postman
MongoDB, and Compass

create-react-app

Please stop right now and check

If you do not have these, RAISE YOUR HAND